Preface
I like guitar music a lot and for a long time I wanted to be able to play the guitar myself. Way too late I finally decided to just buy one and try it. A friend of mine who is an super experienced guitar player helped me to get started and so I bought a cheap Jack & Danny's Les Paul replica which was about 150 Euros. My friend gave me a small amp as well and I was ready to go.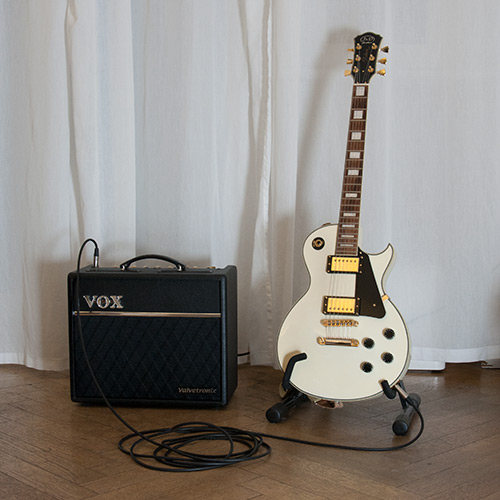 First Steps
My friend also agreed to give me guitar lessons and so we met once a week and I made some good progress but in the end we couldn't continue to do it on a regular basis. Then I got a new job and soon I would forget about this whole guitar business. The books I had were way too boring and the supplementary CDs were too annoying. Long story short, my guitar caught a lot of dust.
New Pickups
Many months later I picked up some motivation again after listening to someone playing the ukulele. What caught me in this moment was the realization that it was possible to play songs and have fun without being super skilled. I totally forgot about that.
A day later I dusted off my guitar, ordered new strings and browsed though some music store websites. Along the way I stumbled upon tuning parts where the music stores would sell pickups, bridges and all kinds of original and third party accessories. Inspired by the vast amount of available parts the nerd in me was thinking about buying original Gibson pickups to improve my cheap guitar and so, after two days of reading blog posts and watching youtube videos about changing pickups and its potential benefits, I just ordered them. I got the Gibson 490R and a 498T which can be found in this combination on a lot of expensive Gibson guitars.
When they arrived I started to disassemble my guitar – and it didn't look pretty. The guitar was made of the cheapest of woods and the soldering was so sloppy that I would have loved to rip everything apart and start from scratch.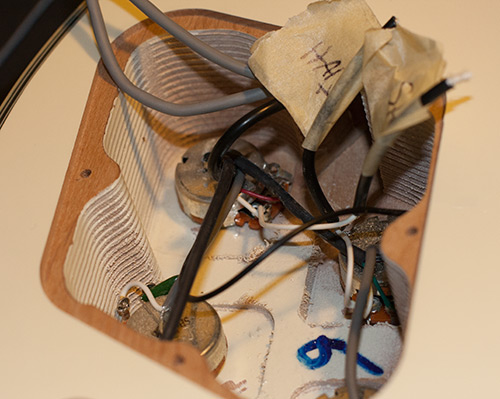 In the end I focussed on the pickups since it was not clear whether it would work at all. The old pickups just had two wires while the new ones had four. This was expected though after studying plenty of blog posts on that topic. Luckily not only the music store where I bought them had a guide on replacing the pickups but there are many other resources available online as well. One popular producer of third party pickups is Seymour Duncan and on their website they have example circuits for almost any guitar configuration you could think of. The wire color is different from vendor to vendor but in principle the wiring is the same and the one from Seymour Duncan was the best one I found. Here is the wiring schema for typical Les Paul models.
After fighting with removing the old cables and attaching the new ones for a while I hooked it up to my amp and was more than happy to find out that it actually worked.
Now before taking my guitar apart I have also recorded some simple chord progressions to be able to compare the result afterwards and so I recorded the same chords with the new pickups.
The result? Well, immediately the sound appeared lot richer, more saturated and bold. That was my first impression. When I compared the recordings I saw that the output level of the new pickups was much higher – almost twice as high. Usually I had the volume controls of my guitar all the way up to 10, with the new pickups I had to set them to 6 or 7 to get to a similar output level.
When I checked again the pickup descriptions the for the 498T said that it was actually a high output version »for hard rock applications which easily overdrives your amplifier with a beefy, sizzling output that will give your guitar new power and presence«. The 490R one says: »… these pickups give a full, rich tonal response with a thick, biting rock tone with excellent definition and harmonics«. Marketing language aside, since I first listened how they sound and afterwards read the description, I was recognizing some of those attributes in the sound I heard.
After adjusting the volume it was still a different sound. The old ones sounded really bright which gave a nice clean sound but the new ones sound more balanced more powerful. The recording from my computer can't really show that. You can see the different output levels but the sound difference becomes more obvious when hooked up to a real amp instead of software.
If you have a cheap guitar that sounds crappy you might be gaining something from changing the pickups as well.
Anyway, after this success my motivation levels increased even more.
The new Amp
In fact this gadget driven motivation approach also made me buy a new amp. The old one I had from my friend was an old Squier 15W without any fancy features. When I was looking for a new and not super expensive practice amp the decision boiled down to a Fender Mustang I and a Vox VT20+ which are both so called modeling amps. That means that a lot of different amp models and effects are built into the amp and you get to play a lot of different styles with them. The Fender Mustang can be even hooked up to your computer via USB to model your individual sound with virtual effect pedals etc which can then be uploaded back onto the amp. The Vox has a fixed set of amp models and effects which you can combine at your will with the amp controls. The cool feature of the Vox amp is that they have build a real tube into the power section to make it sound more like a tube amp than a pure transistor based amp like the Fender.
After a lot more blog posts, youtube reviews and comparisons I decided to buy the Vox. Mostly because I liked the sound a lot better but this is really dependent on your personal taste. Both are really great practice amps that you can have a lot of fun with.
The tuner
The last piece of equipment I got was a new tuner. Before I tuned my guitar with my iPhone or the computer but somehow I always had the impression it was not tuned properly. The new amp has a tuner built in but the experience is kind of binary as it only as three LEDs for indicating the tuning. Well it also lights up LEDs for each string but I wanted something more precise. The tuner I bought is the Korg Aw-2G Bk which has a piezo sensor that picks up the vibrations of the instrument. With this I do not need to connect the guitar to any device for tuning and it works great for the cheap acoustic guitar I have sitting around as well.
Learning to play the guitar in the 21st century
Now that I had this awesome new gear the question remained how I would actually improve my skills. I knew that the teacher concept did not really work for me because of my schedule and because sometimes one hour was too less and sometimes I didn't want to drive around the city with my guitar. My pace of learning is highly varying and a fixed teacher schedule just didn't feel right for me. The books, as I have mentioned were to boring and uninspiring and so I thought:
»Hey its the 21st century! Aren't there any cool website by now with lots of videos and online lessons?«
A quick round of searching the web revealed a couple of those services of which I choses jamplay.com. They have videos in great quality, a lot of teachers and a lot of lessons varying from basics, specific style lessons, technique and lessons about recording, song writing etc. The great part about the multiple teachers is that if you don't like one particular teacher, there are still 10 other ones having lessons for the same skill set or style. Its about 15 dollars a month and you get to watch as many videos as you want and they also work on an iPad.
Now almost every evening I spend 1-2 hours watching videos and practicing. For me it is the perfect setup and I have the feeling that I learn a lot of stuff quickly.
Sooner or later I will also buy a better guitar, that is more pleasant to play and which uses more quality parts but for now I'm good. I'm already saving up my flattr money but it will take a while until I get there.
Finally I want to highlight thomann.de as a good example for online music equipment stores. They have extensive guides about exchanging pickups, choosing a proper amp, recording equipment and a lot of other topics. They have sound examples for guitars and amps! So if you consider new gear go to their site to get advice and sound examples.